Online only
On sale!
-£6.00
 
Valid Circle Redress
VAT excluded
Delivered within 5 days from date of Dispatch
DRM protected EPUB product. Permanent ownership of EPUB Download copy to view on devices registered to purchaser (Licence). No VAT if purchased in the UK. Available immediately after purchase for download via the Able Limited Editions Customer's Account page. See DRM v No DRM page of this website via the main horizontal menu by hovering over the Home button for details of the EPUB Format, how to order copies, and download purchased copies, etc. 
Valid Circle Redress is a 140,000 word fictional crime suspense novel written by the Scottish author Leo Hunter. Published in this EPUB Format I.S.B.N. 9780957307520 during 2020 by Able Limited Editions.
Set in Scotland, it reveals the innermost torment of one victim of absolute suppression; as they make an agonising decision. The decision involves taking a choice between passive acceptance of suppression of the whole truth, and becoming another officially blunted bullet living an otherwise oppressed life of crime.
To most reasonable people of any civilised country, the choice wouldn't appear to be very difficult to take: the said sword of justice one inevitability to avoid at any said cost. But waiting for the inevitable to occur officially at whim, the victim gathers as much evidence of the suppression as possible to shield the blow of the sword. But they discover that civilised law dictates it's cowardly, therefore illegal and unlawful to fight the suppression.
A coward, they're known officially not to be. So the inevitable fight ensues; to-the-death.
These EPUB copies are available worldwide only in the English language from Able Limited Editions.
No customer reviews for the moment.
2 other products in the same category:
Online only
On sale!
-£6.00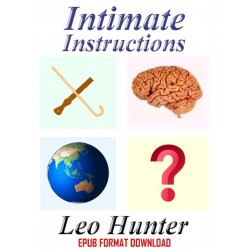 Online only
On sale!
-£6.00